Restumping Geelong | House Reblocking Services | Master Builder
✅ 10 year guarantee
✅ Shortest lead Time - Largest Team
✅ Master Builder Certified
✅ Fully Licensed Builder
✅ All Council Requirements handled
House Restumping Reblocking Experts in Geelong
Our Technicians Use Tried And Tested Techniques To Minimise The Impact Of The Restumping Project On Your Family's Daily Routine.
If you've noticed sagging in your floors, doors no longer shutting or opening, then get in touch with our team today and get a free assessment of your property from the professionals at Geelong Restumping Solutions
We are the leading provider of restumping services in Geelong, offering residents solutions that keep their homes safe from structural damage.
Our experts will begin by carrying out a thorough assessment of your home, checking the condition of your stumps as well as the floor. We will then discuss with you an optimal solution for your stumping challenge, ensuring your problem is solved for the long-term at a competitive price.
Our highly experienced technicians make restumping Geelong houses as quick and unobtrusive as we possibly can. In a short amount of time, you will be able to enjoy a safer, more comfortable residence.
From start to finish, our team will update you on the project's progress, making sure you're kept in the loop throughout the foundation repair process. It's our communication and attention to detail that sets us apart. We always ensure that we keep the site clean and safe during and after the reblocking process.
Over time, the stumps that hold a house could suffer damage, possibly as a result of rotting or being attacked by termites. Even concrete stumps, known for their strength and longevity, can crack and fall apart, compromising the integrity of your home's structure. Restumping is the process of removing and replacing such stumps fully or partially. Left unattended, damaged stumps will not only cause uneven floors, but lead to foundational damage and the eventual collapse of your home.
At Geelong Restumping Solutions, we only use concrete and steel stumps and install ant caps on all of our stumps. This maximises termite protection for the structure of your home and ensures that when the job is completed, we won't be back again. If you're wondering are restumping and underpinning the same then this article will answer your questions. 
Houses will generally have two types of foundation: a concrete slab or stumps made of either timber, concrete or steel. If your house has the former, you will not require reblocking. Problems with slab foundations are usually addressed by underpinning. However, if your house is built on stumps which have lost their integrity, restumping is how you restore the structure of your property.
There are some telltale signs you can look out for to see if stumps are damaged, short of a full building inspection. If you have noticed that your floor doesn't feel level or your doors are not closing properly, your house may be due for restumping. Cracks on the outer or inner sides of your walls are another sign of this.
Give us a shout for affordable restumping in Geelong. We will be waiting to get to work and restore your home to the structurally sound, safe abode you know and love.
What's the Difference Between Restumping and Reblocking?
The terms restumping and reblocking are used interchangeably to refer to the same procedure of replacing damaged stumps in order to restore the integrity of a building's foundation. Both refer to the process of replacing stumps of a building by placing jacks below the structure of the floors, lifting the building enough to remove the problem stumps and replacing them for new ones. The new stumps are then fixed with concrete and the jacks are removed when the concrete sets.
There is another procedure performed to repair structural damage in a house's foundation known as underpinning. It is mentioned in the same breath as restumping and reblocking, but it is not entirely the same.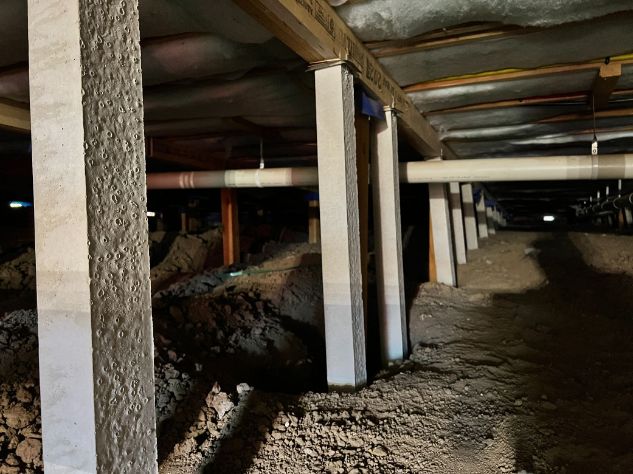 How do I Know if I Need Restumping or Underpinning?
The main difference between restumping and underpinning is what footing system your house has been built on. If your house has been built on a suspended floor then you will require reblocking. If your house has been built on a concrete slab, then you will require underpinning. This is because when a concrete slab is used as the footing system, there are no stumps required.
We working closely with a team of underpinning contractors that have been underpinning Geelong homes successfully for years. We're able to work closely with them when there are projects that require both reblocking and underpinning. 
Get in touch with Geelong west leading team and we will be able to help determine whether or not it's likely underpinning or to get restumped.  Our technicians will conduct an assessment of your house; from its walls to its foundation. Their findings will determine which solution is best for your house for the long-term, all while helping you save on the restumping cost.
How do I tell if my house has been built on a suspended floor?
One of the best things to look for is whether or not there are plinth boards surrounding your house. If you can see that there is crawl space below your floors, then your house is built on suspended floors. Ducted floor heating and ducted vacuum systems are all signs that your house is built on stumps. Looking from the outside of your house, you may notice that your floors are raised off the ground, indicating that your property is built on stumps.
If you can see there that there is no space between your floors and the ground, or your house has a brick veneer, then it is likely that your house is built on a concrete slab. In this case, if your property has experienced cracking in the wall tiles, uneven floors and issues opening windows and doors, or you have noticed significant cracks in the external brickwork of your house, then you will need to contact an underpinning contractor. So whether you're in Bendigo, Torquay, Lara, Melbourne, Werribee, Melton or  Sunbury, our restumping team are there to help. 
Why do Stumps Deteriorate?
We've seen that damaged stumps will require you to make plans for restumping and sometimes you'll need to be replacing brick piers under house to bring your house back to level. But just what causes the stumps beneath your house to lose their integrity?
In places that suffer long periods of drought and heat, timber stumps usually begin to become deformed with time. The heat and lack of moisture create pressure that leads to internal cracking. Such conditions can also cause the stumps to move, compromising the strength of the foundation.
Termites and some ant species are known to eat up timber stumps and can be quite problematic in some parts of Australia. However, these troublesome insects may not be a reason your Geelong property may need reblocking. They are less common in these parts. To be on the safe side, though, you can prevent possible damage to your timber stumps by insects using pest control measures.
No matter what material your stumps are made of, they will still suffer wear and tear over time. Steel, concrete or timber, stumps will weaken and lose their structural integrity as the years pass. How well the stumps can hold up against rust, concrete cancer, the weight of the house, insects and the prevailing weather conditions will determine how long they will last. Stumps can last for up to 80 years in ideal conditions but it's wise to conduct a building inspection from time to time to forestall major damage. Our restumping experts will check your foundation for any signs of cracking and recommend the most cost-effective solution.
Wet soil is not good for your stumps. If you have problems with drainage in the vicinity of your house or any plumbing issues that are causing leakages, it's wise to get them addressed as early as possible. Dark patches around your stumps could be a sign that they're standing in excessively moist soil. This dampness can eventually lead to subsidence.
Subsidence happens when the foundation of your house slowly sinks into the ground because the soil can no longer support its weight. Excess moisture is just one of the causes of this. Being surrounded by moisture-hungry plants that suck up all moisture from the soils beneath them is another. A house built on land that used to be a quarry can also be a cause for concern in this regard. The type of soil is another; clay soils being particularly notorious for causing subsidence.
Besides moisture, the type of soil in your locality may affect the stability of your stumps. A number of homes in Geelong have to undergo reblocking as they are built on fill or reactive clay. A foundation built on this kind of soil will eventually need repairs as reactive soils easily expand and contract depending on the amount of moisture around them. It's important that we use concrete stumps Geelong soils can deal with, not timber stumps that won't last.
Call us today for a complete assessment of your home to begin the process of reblocking your Geelong Vic residence. Our license technicians have completed several projects in the port city and its environs and are best placed to handle the intricacies of its geology. With us you are guaranteed solid workmanship that will stand the test of time.
Restumping essentially entails removing defective, damaged, and cracked stumps from a house's foundation and replacing them with new ones. Simple as it may sound in theory, it is an involved process that ordinarily takes anywhere between a couple of days to two weeks to complete. Before the actual works commence, you will need to get all the necessary documentation in place, beginning with a building application permit. Prior to this, your chosen contractor will have carried out all the required assessments to get a clear idea of the extent of the reblocking. Once you have obtained all the necessary approvals from a registered building surveyor, the reblocking experts can get on the ground.  
Another key preliminary measure to take is determining the datum point of the house. This is a point of reference that will be used when levelling the floor. If restumping is being done as part of a larger renovation exercise, it's important to get in a restumping contractor early on to ensure that the house is levelled prior to painting, plastering and other tasks.
From start to finish, your home is in safe hands when using our house restumping geelong team as we're fully insured. Get in touch to organise an obligation free quote today. 
Steps For House Restumping In Geelong
Here's an overview of how the restumping process plays out: 
Clearing any furniture or objects surrounding the house is usually the first step of any reblockingproject in Geelong. This is also when plinth boards are removed in order to gain access for our contractors.
Next, more cleanup is done beneath the house. All objects and rubbish are cleared from there to organise the workspace before work starts.
Jacks are placed beneath the house to keep it in place as technicians go about their work. It also makes the house safer for its inhabitants during this process.
After the jacks have been firmly put in place, the old damaged stumps can be removed.
Holes for the new stumps are dug where the old ones were knocked out and the soil removed. There are predetermined depths for these holes depending on if the stump will be under a load-bearing wall or not. Load-bearing walls will have a depth of at least 600mm.
A building inspectionis conducted while the house is held up by jacks by the local authorities. This is a requirement for any restumping operation in Geelong. Note that the inspection can also be done by an independent surveyor.
After approval has been obtained from the Geelong authorities, floor levelling can be done. There are a series of methods that can be used to complete this process and will depend on the job.
Measurements of the holes are taken so as to determine which stumps can go into which holes.
Concrete of the correct MPA is mixed and the concrete mix dragged beneath the house to all the holes that had been dug. After all the holes have been filled, the concrete mix is left to sit for two to three days. Depending on the number of stumps being replaced and the state of the house structure, stumps may be replaced one at a time.
During this time, there is the option for a piece of treated pine to be placed in all the stump holes for stumps that will be on the perimeter of the house. These will offer a surface on which plinths can be nailed.
After the stumps are firmly in place and the concrete is set, the hydraulic jacks can be removed and new plinth boards nailed into place.
Get your restumping Geelong project off the ground with experienced experts who have completed numerous similar projects in the region. With us, you are guaranteed sterling workmanship that will last you for many years to come. Contact us today for a building inspection and a free quote. 
How do i know if i need restumping geelong?
Here are some things to look for when accessing whether you need reblocking
There are a number of signs that indicate that your current stumps have reached the end of their life and needs to be restumped. Here we will discuss the signs that your home requires restoration and what you can do about it.
Signs that your home is suffering from old, damaged foundation stumps: A number of signs may signal that it is time to call in the professionals. Here we will discuss those signs that indicate a need for restumping.
If you notice any changes in the structure or appearance of your house such as cracking walls, doors do not close right or floors are cracked and not level, it is time to call the experts.
There are a number of telltale signs that signify old foundation stumps:
A sagging house wall may indicate that your foundation stumps have sunk over time. If you notice this sign, arrange for a visit from a professional. Doors do not fit right in their frames, no longer close or have difficulty opening and closing may be a sign that the stumps do not hold your foundation up.
If you notice this sign, it is time to call the experts for an inspection and estimate. Cracks appearing in walls and floors are often signs that the stumps have settled into old sinkholes where they rot. If you notice this sign, it is time to call the experts for an inspection and estimate.
Get in touch with our team at Geelong Restumping Solutions for the best advice on your restumping project!